------------------------------------------------------------------------------------------------------------------------------------------
TEACHER OBITS
Jacqueline J. Arps - Gault & Lincoln

---------------------------------------------------------------------------------------------------------------------------------------------------
Elizabeth (Betty) Crippen - Lincoln

------------------------------------------------------------------------------------------------------------------------------------------------
Wallace R. Drake - Lincoln
---------------------------------------------------------------------------------------------------------------------------
Principal Kenneth W. Flora deceased - 23 Mar 1985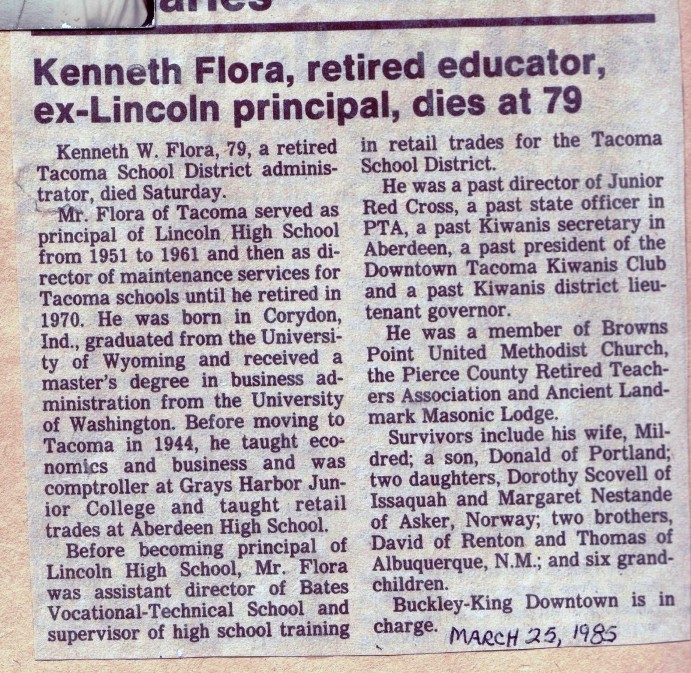 ------------------------------------------------------------------------------------------------------------------------------------------------
CHUCK GILMUR
Chuck Gilmur Passed away peacefully January 13, 2011, surrounded by loved ones, in Tacoma. He was 88. He will be remembered for his strength, warmth, kindness and wit. The most wonderful man in the world! Chuck was born in Seattle August 13, 1922. He made three letters in UW basketball, spent three years in the Army, and signed with the Chicago Stags in 1946. He married Thelma Thureson in July 1948. He soon began his family and also played for eh Washington Capitals. Chuck coached the Lincoln Abes basketball team and raised a family of three children. Gardening was his favorite pastime. Surviving family members include his wife Thelma, daughter Lorri Gilmur-Dillman, (Randy Dillman), brother Jim (Jackie), five grandchildren, Lee Overland, Brit Leroy, Kristi Dillman, Katie and Charlie Gilmur, and daughter-in-law Deanne Gilmur. There will be no services as requested by deceased. Donations can be made to a favorite charity. Published in News Tribune (Tacoma) on January 23, 2011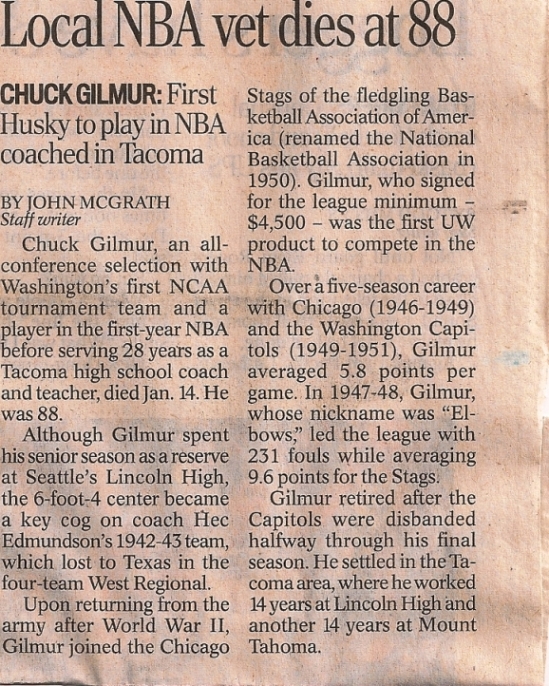 -------------------------------------------------------------------------------------------------------------------------------------------------
J. William (Bill) Ryan - Gault

--------------------------------------------------------------------------------------------------------------------------------------------------
Teacher: Leonard E. Schuchman (from Stewart & Lincoln)

Leonard E. Schuchman 12-10-1913 to 7-31-2006 Leonard Schuchman died peacefully in his sleep at 4:15 AM, July 31, 2006, at the age of 92. Leonard was born in Montana, later moving to Pullman, Washington, where he grew up. The son of a blacksmith, he attended Washington State College, graduating with a BA in Music. During his career, Leonard taught vocal music in several school districts in Washington, including Elma, Castle Rock, Lynden, Bremerton, and finally Tacoma, where he taught for many years. He retired from Tacoma Public Schools in 1976 after 42 years in music education. During WWII, Leonard was a conscientious objector and served in the medical corps. He also played Sousaphone in the Army band. Leonard married Thora Pedersen on a two-day pass. They celebrated their 63rd anniversary two weeks before his death. Leonard was exceptionally active in his church, directing church choirs until his early eighties. Leonard's three loves were family, music, and gardening. During his long and productive retirement, he took time to pursue and enjoy each of them. Leonard became a Master Gardener experimenting with cross-grafting dwarf apple trees, while producing prolific vegetable gardens every fall. Leonard continued to conduct, leading the Orpheus Male Chorus and the Ladies Musical Club for many years. Leonard was preceded in death by three of his children, Bobby and Cindy Schuchman and Mary Lou Harting. He leaves his wife Thora and three daughters, Kristin Turner (Rex) of Muncie, Indiana, Linda Redmond (Harv) of Longview, Washington, and Annette Monnett (Clark) of Tacoma. He is also succeeded by Mary Lou's husband, Rick Harting of Renton, Washington, eleven grandchildren, and six great-grandchildren. Leonard's family invites all of his friends, former students, and co-workers to attend and share in a celebration of his remarkable life at 1:00 PM Saturday, August 19, 2006 at the Fircrest United Methodist Church, 1018 Columbia Avenue, Fircrest. During the service, in honor of the beautiful music that was such a big part of his life, there will be an opportunity for members of the audience to participate in a volunteer male chorus (the music will be provided). An informal reception at the church will follow the service. In lieu of flowers, remembrances may be made in his name to the United Methodist Committee on Relief. For more information, see

www.umcor.com

. Published in the News Tribune (Tacoma) on 8/13/2006.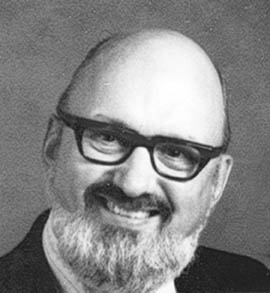 ---------------------------------------------------------------------------------------------------------------------------------
Teacher: William Sullivan
William "Bill" W. Sullivan "Papa" Bill, age 88, died Thursday, January 5, 2006, surrounded by his loving family in Tacoma. He was born February 20, 1917, to Daniel and Mabel Sullivan in Ottumwa, Iowa, moving to Galesburg, Illinois at age 12. Bill grew up during the Great Depression, joining the Civilian Conservation Corps in 1934 for two years, then working after that until he joined the Army in 1940. He was attached to the 509th Parachute Infantry Regiment ("Geronimos"), which was the first combat paratrooper unit of the U.S. Army. Bill served his country in the North African and Italian war theatres, earning a Purple Heart, Silver Star, and a battlefield commission. After the war, Bill relocated to Tacoma, where he met his future wife, Esther Reda. They were married May 28, 1947, at St. Rita's Church. Bill and Esther were married 48 years and raised three daughters. Bill earned his Bachelor's and Master's degrees from the University of Puget Sound. He devoted his working life to teaching, loving the profession and his students, never tiring of encouraging and sharing their learning. He taught for 30 years, most of the that time at Lincoln High School as well as working as adjunct faculty at UPS in Tacoma. His love for reading and knowledge were hallmarks of his life. Bill retired from teaching in 1981, and devoted the remainder of his life to his family and his various hobbies. In 2001 Bill moved to Narrows Glen in Tacoma and lived there until his recent illness and death. Bill was preceded in death by his beloved wife Esther in 1995. He is survived by his daughters, Marie Sullivan (Tom Hoidal), Joan Granlund, and Rita Sullivan, his four loving grandchildren, Bill and Jennifer Granlund, Daniel and Kelsey Hoidal, and many nieces and nephews. Funeral Mass will be celebrated Tuesday, January 10, 2006 10:30 am at St. Rita Catholic Church. The Rosary will be recited Monday , January 9, 2006 7:00 pm at the Gaffney Funeral Home Chapel. Entombment Calvary Cloisters. The family would like to extend special thanks to the staff and caregivers of the Franciscan Care Center and the Franciscan Hospice House for their constant support and quality care of Bill in the last few months and days of his life. In lieu of flowers, remembrances may be made to the Washington Talking and Braille Library in Seattle, WA or St. Rita's Parish of Tacoma, WA. Please leave online condolences at www.gaffneyfuneralhome.com . Arrangements by Gaffney Funeral Home, 253-572-6003.
Published in the News Tribune (Tacoma) on 1/8/2006.